June 14, 2016
PD07-03: 
Comparing Vasoepididymostomy Technique Outcomes: Longitudinal Intussusception Vasoepididymostomy (LIVE) versus Other Techniques


Filipe Neto*, Abimbola Ayangbesan, Bobby Najari, Phil Bach, Andrew Gottesdiener, Philip Li, Marc Goldstein, New York, NY
Introduction and Objectives

 
Epididymal obstruction is a common cause of obstructive azoospermia. Amongst acquired forms, those secondary to epididymal infection and prolonged vasal obstruction are the most common. Treatment is either microsurgical reconstruction and/or sperm retrieval for in vitro fertilization with intracytoplasmic sperm injection (IVF/ICSI). Microsurgical reconstruction vasoepididymostomy (VE) has been shown to be more cost-effective than sperm retrieval with IVF /ICSI. Since the earliest report of VE in 1903, the technique has undergone continuous improvement, culminating more recently in the development of the longitudinal intussusception microsurgical vasoepididymostomy (LIVE) technique. We compare the patency rates in men that underwent VE using different microsurgical techniques. 
Methods
We reviewed a database of 754 microsurgical reconstructive procedures of the male reproductive tract done by a single surgeon (MG). We identified 87 cases with a history of bilateral VE and with post-operative semen analysis data available. Patency was defined as the presence of motile sperm in the ejaculate at six months post-operatively. Men who did not meet this criteria, but had unassisted clinical pregnancies were also considered patent. Men with a sperm concentration <100,000/mL and/or <6 month follow-up were considered not patent. We have been using the LIVE technique since 2002 and compared the outcomes of LIVE to the previous techniques. 
Results
Mean patient age was 42.1 ± 7.5 years old. 49 (57%) cases were due to infection, while 38 (43%) had a previous vasectomy as etiology. For the post-vasectomy cases, mean time since vasectomy was 12.8 ± 4.8 years. Regarding the VE technique used, 20 (23%) were LIVE cases and in 67 (77%) cases other techniques were used. The overall mean post-operative follow-up time was 18.2 ± 23 months. Overall patency rate was 81%. The patency rate for the LIVE cases was 85% and for the other techniques it was 79%, p=0.125. 
Conclusions
Longitudinal intussusception microsurgical vasoepididymostomy (LIVE) technique is an effective way to treat patients with epididymal obstruction when compared with other techniques.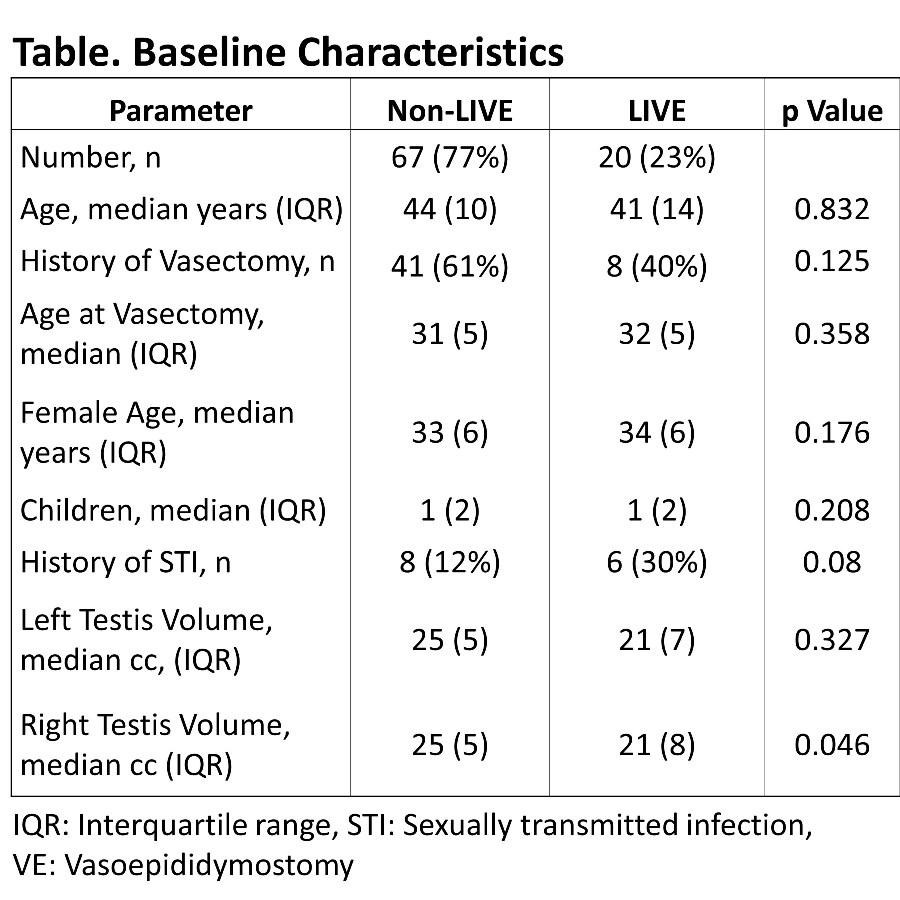 Date & Time: May 6, 2016 3:30 PM-5:30 PM 
Session Title: Infertility: Therapy II 
Sources of Funding: This project was supported by grant number T32HS00066 from the Agency for Healthcare Research and Quality. The content is solely the responsibility of the authors and does not necessarily represent the official views of the Agency for Healthcare Research and Quality. The project was also supported by The Frederick J. and Theresa Dow Wallace Fund of the New York Community Trust.
Selected Publication & Abstract