The Center for Male Reproductive and Microsurgery was founded in 1982 by its Director, Marc Goldstein, MD, FACS, and Professor of Urology, Weill Cornell Medical College. It was the first university center in the United States to be devoted exclusively to male infertility treatment and research and to join with the in-vitro fertilization program at the same university to provide coordinated, collaborative care for the infertile couple. The Center has cared for over 6,000 infertile couples for whom a significant or exclusively male factor contributed to their fertility problem. The Center is world renowned for its pioneering work in the microsurgical repair of obstructions including vasectomy reversals, the development of a microsurgical technique for the safe and effective repair of varicocele and the development of advanced techniques of epididymal and testicular sperm retrieval for use with in-vitro fertilization and intracytoplasmic sperm injection. The Center maintains research laboratories at Weill Cornell Medical College as well as at the Population Council's Center for Biomedical Research, located on the campus of Rockefeller University. The Center has graduated over 20 fellows in male reproduction and provides a special training program for international physicians in microsurgery and male reproduction.  
Our Mission
The mission of the Center for Male Reproductive Medicine and Microsurgery is to provide state-of-the-art compassionate care for the infertile couple. To advance this goal, the center carries out basic and clinical research in male reproduction, trains residents and fellows, and provides educational programs for professionals as well as the public.
Our Physicians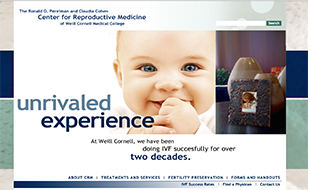 Our innovative partnership with the Center for Reproductive Medicine has resulted in the highest pregnancy rates of any fertility center in the world.