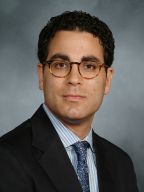 Assistant Professor of Urology & Reproductive Medicine, Weill Cornell Medical College Urologist, NewYork-Presbyterian Hospital
Biography
James A Kashanian, MD, is an Assistant Professor of Urology and Reproductive Medicine at Weill Cornell Medical College and a Urologist at NewYork-Presbyterian Hospital, Cornell Campus.
Dr. Kashanian has a bachelor of science in Biomedical Engineering and received his medical degree from Temple University School of Medicine in Philadelphia, PA. He completed his general surgery and Urology residency training at Maimonides Medical Center in Brooklyn, NY. Dr. Kashanian joins the Center for Male Reproductive Medicine and Microsurgery and the division of Sexual Health and Medicine in the Department of Urology at Cornell after completing fellowship training in Chicago, IL, at Northwestern Memorial Hospital, Feinberg School of Medicine in male reproductive medicine and surgery.
Dr. Kashanian is a member of the American Urological Association (AUA), the Sexual Medicine Society of North America (SMSNA), the American Society for Reproductive Medicine (ASRM), the American Society of Andrology (ASA), and the American Society for Men's Health (ASMH). 
His clinical and research interests focus on erectile dysfunction and penile prosthetic surgery, men's health, and fertility preservation in cancer patients.
Dr. Kashanian has published multiple peer reviewed journal articles, book chapters, and has given numerous invited lectures.
He specializes in seeing adolescent and adult males with infertility, low testosterone, and sexual dysfunction.