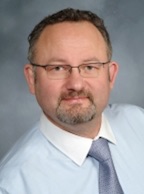 Associate Professor of Urology and Reproductive Medicine, Weill Cornell Medical College
Biography
Dr. Darius A. Paduch, MD, PhD is an Associate Professor of Urology and Reproductive Medicine at Weill Cornell Medical College in New York City, NY, USA. He is an internationally recognized expert in genetics and reproductive endocrinology of male infertility, sexual medicine, virology, and hypogonadism.

Dr. Paduch received his medical degree from the Medical Academy of Lodz, Poland, and his PhD in molecular microbiology from the Polish Academy of Sciences. He finished his residency in urology at Oregon Health Sciences University in Portland, Oregon, followed by a post-doctoral fellowship in andrology and male infertility at the Center for Male Reproductive Medicine, at Weill Cornell Medical College and the Population Council on the campus of Rockefeller University, in New York City. He subsequently joined the faculty as a clinician-scientist at Weill Cornell Medical College, where he has been an academic faculty member since 2003.

Dr. Paduch is Associate Research Director of the Fellowship Program in Male Infertility and Andrology, and is a certified Laboratory Director in Endocrinology, Andrology, Bacteriology, and Genetic Testing.

His clinical and translational research interests focus on the preservation of fertility in adolescents with Klinefelter Syndrome, genetics of male infertility and testicular failure, and the role of antivirals on spermatogenesis and sperm chromatin damage. He has made significant contributions to advance our understanding of neurobiology of ejaculatory and orgasmic dysfunction in men and has developed new methods to measure arousal using ultrasonography. His research has led to the development of clinical trials to measure the effects of testosterone replacement on ejaculatory dysfunction.

Dr. Paduch has published over 80 peer reviewed journal articles, 8 book chapters, and has given numerous invited lectures in the United States, Europe, and New Zealand.

He sees male children, adolescents and adults with varicocele, infertility, Klinefelter syndrome, low testosterone, and sexual dysfunction.

A retired captain in US Army he is an avid boater, fishermen, and loves hunting with his crossbow in his spare time. 

To contact Dr. Darius Paduch, an appointment can be made by calling his office at (212) 746-5309. He can be contacted by mail at Brady Urology Health Center, Department of Urology, The NewYork-Presbyterian Hospital-Weill Cornell Medical Center, 525 East 68th Street, New York, NY 10065 or by fax at (212) 746-7287.